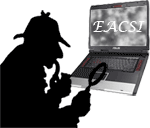 Home
Computers
Network
Program Design
Electronics
Web Hosting
Support
Contact EACSI
Site Map
Electronic & Computer Solutions Information
Electronic and Computer Solutions, Inc. is your all in one computer solution provider. We do everything from building and repairing computers to web design and web hosting. We have been in business for more than 10 years.

We custom build our own computers. We use business grade parts or requested parts by a customer. We service computers for repair or upgrade. We repair most makes and models of other brands. We also sell custom built notebooks.

We setup all sizes of networks including wireless. We use a secure VPN setup to connect two or more offices together whether they are across the parking lot or across the country or to connect you to your office from home.

We do custom programming. We design to the customers specifications. We will design and customize your application, web site or database application.

We do our own web and email hosting. We have several servers spread across the nation.

Our main focus has been small to medium size businesses around Tulsa, Oklahoma. We are branching out into retail.

We have offered our services in the computer industry since 1984 from the days of the original XT and Apple computers. Our service is backed by more than 20 years of experience in this ever changing and fast paced industry.

Our services also include PC service, repair and setup.
We offer a discount to school and college student and faculty.